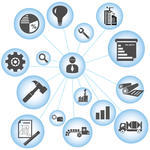 MindManager is a mind-mapping software which provides ways to visualize information in mind maps and flowcharts.  MindManager can be used to manage projects, organize information, and for brainstorming. 
Quickly brainstorm complex information and establish relationships between ideas that you may have otherwise missed. By visually arranging information you are able to understand and work with larger volumes of information than is normally possible using conventional methods. 
Once your MindManager map is assembled, you can convert the information into any number of common formats such as Word documents, web pages, project plans, email or even exchange data in spreadsheets. Create and share dynamic information maps, process flow diagrams, concept maps, project dashboards, and now interactive timelines. Or, turn your maps into interactive dashboards and receive updates when changes are made.
MindManager 2017 - the most integrated mapping solution in the world. Share your MindManager content with anyone on any platform, exporting your best ideas, plans and notes to 700+ web apps.  Project planning tools, project timelines, workflow diagram improvements, and more features