Course Details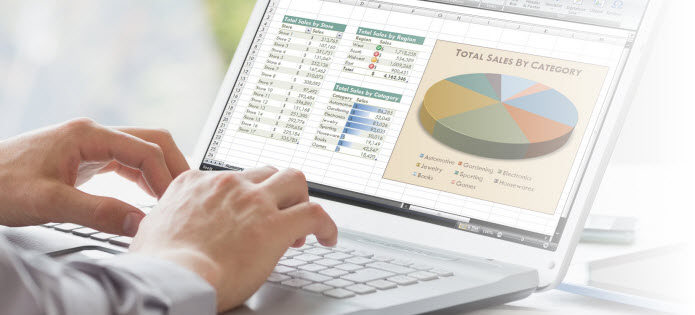 This course is designed for people who are new to spreadsheets or converting from another program. The learning outcomes of this course cover the basic day to day tasks required to work with an Excel spreadsheet and produce basic reports. This course is available in the Excel 2016, Excel 2013, Excel 2010 or Excel 2007.
Duration:
1 Day
Audience:
The course has been designed for new users of Microsoft Excel.
Prerequisites:
Participants must have basic keyboard and mouse skills and be familiar with the Windows operating system.
Excel 2016
Excel 2016 Basics
Overview & Excel 2016 Screen
Title Bar
Ribbon and Ribbon Tabs
Name Box and Formula Bar
Worksheets
Selecting Cells
Using Ranges
Entering Data into the Worksheet
Data Entry Techniques
Entering a Formula
AutoSum
Managing your Workbook
Editing Data
Editing the Contents of a Cell
Find & Replace
Editing a Formula
Inserting Columns, Rows and Cells
Copying and Moving Data
Fill and Flash Fill
Drag and Drop Editing
Copying Formatting
Clearing Format
Formulas and Functions
Relative Formulas
Absolute References
Using Basic Functions
Status Bar Calculations
Using the Function Button
Preparing for Print
Fine Tuning for Print
Page Layout View
Page Setup Options
Print Preview
Controlling Page Breaks
Page Break Preview
Printing a Worksheet
Print Title
Charting
Types of Charts
Choosing the Source Data
Category and Value Axis
Working with Charts
Chart Tools
Moving and Sizing Embedded Charts
Creating a Pie Chart
Charting Non-Consecutive Data
Changing the Axis Plot Order
Layout Tools
Printing a Chart Themes & Graphics
Themes & Graphics
Themes and Styles
Adding a Picture or Graphic
Formatting Graphic
Spreadsheet Design
Good Design
Analyse a spreadsheet
Design Principles
Planning Checklist for Spreadsheets
Microsoft Tips for Optimising Speed
Design Project
Excel 2013
Excel 2013 Basics
Overview & Excel 2013 Screen
Title Bar
Ribbon and Ribbon Tabs
Name Box and Formula Bar
Worksheets
Selecting Cells
Using Ranges
Entering Data into the Worksheet
Data Entry Techniques
Entering a Formula
AutoSum
Managing your Workbook
Editing Data
Editing the Contents of a Cell
Find & Replace
Editing a Formula
Inserting Columns, Rows and Cells
Copying and Moving Data
Fill and Flash Fill
Drag and Drop Editing
Copying Formatting
Clearing Format
Formulas and Functions
Relative Formulas
Absolute References
Using Basic Functions
Status Bar Calculations
Using the Function Button
Preparing for Print
Fine Tuning for Print
Page Layout View
Page Setup Options
Print Preview
Controlling Page Breaks
Page Break Preview
Printing a Worksheet
Print Title
Charting
Types of Charts
Choosing the Source Data
Category and Value Axis
Working with Charts
Chart Tools
Moving and Sizing Embedded Charts
Creating a Pie Chart
Charting Non-Consecutive Data
Changing the Axis Plot Order
Layout Tools
Printing a Chart Themes & Graphics
Themes & Graphics
Themes and Styles
Adding a Picture or Graphic
Formatting Graphic
Spreadsheet Design
Good Design
Analyse a spreadsheet
Design Principles
Planning Checklist for Spreadsheets
Microsoft Tips for Optimising Speed
Design Project
Excel 2010/ Excel 2007
Excel 2010 / 2007 Basics
Overview & Excel Screen
Title Bar
Ribbon and Ribbon Tabs
Name Box and Formula Bar
Worksheets
Selecting Cells
Using Ranges
Entering Data into the Worksheet
Data Entry Techniques
Entering a Formula
AutoSum
Managing your Workbook
Editing Data
Editing the Contents of a Cell
Find & Replace
Editing a Formula
Inserting Columns, Rows and Cells
Copying and Moving Data
Fill and Flash Fill
Drag and Drop Editing
Copying Formatting
Clearing Format
Formulas and Functions
Relative Formulas
Absolute References
Using Basic Functions
Status Bar Calculations
Using the Function Button
Preparing for Print
Fine Tuning for Print
Page Layout View
Page Setup Options
Print Preview
Controlling Page Breaks
Page Break Preview
Printing a Worksheet
Print Title
Charting
Types of Charts
Choosing the Source Data
Category and Value Axis
Working with Charts
Chart Tools
Moving and Sizing Embedded Charts
Creating a Pie Chart
Charting Non-Consecutive Data
Changing the Axis Plot Order
Layout Tools
Printing a Chart Themes & Graphics
Themes & Graphics
Themes and Styles
Adding a Picture or Graphic
Formatting Graphic
Spreadsheet Design
Good Design
Analyse a spreadsheet
Design Principles
Planning Checklist for Spreadsheets
Microsoft Tips for Optimising Speed
Design Project